Weight loss programs ideally offer an effective combination of diet and exercise. Unfortunately, they often miss the mark with bad advice on exercises to lose belly fat. Scientific research explains why.
.
.
.
.
.
.
.
.
.
.
.
Weight Loss Programs – Failure of Exercise
Keep in mind that weight loss should specifically refer to fat loss. Anyone can lose weight, including lean body mass as well as fat mass, by starving. The key is to do exercises to lose belly fat.
When I go to the gym, I always see the 'long-slow-torture' devices in high demand: treadmills, exercise bikes, stair steppers, etc. Most of the users look a pretty casual, some even reading books or munching on snacks as they work out. At any one moment, most are jiggling too much around the middle, thighs, arms, and backsides.
This was also what I noticed with my running buddies in years past, which led me to wonder why so many of them, including me, always seemed to carry a spare tire around the middle. Even the faster marathon runners among us failed to be truly trim. The weight of my observations (pardon the pun) in the gym and on the track finally spurred me to look into possible reasons why so many people who workout are not trim. I posted earlier on one of the factors in Why Exercises To Lose Belly Fat Fail.
Although it may seem simplistic to say that everything comes down to diet and exercise, that is a good starting point for digging into the scientific literature, as I like to do (really!). In so doing, I am often rewarded by coming across a journal article such as the one whose abstract is reproduced here. Take a look, and pay particular attention to the second to the last sentence. I'll comment further on this study below.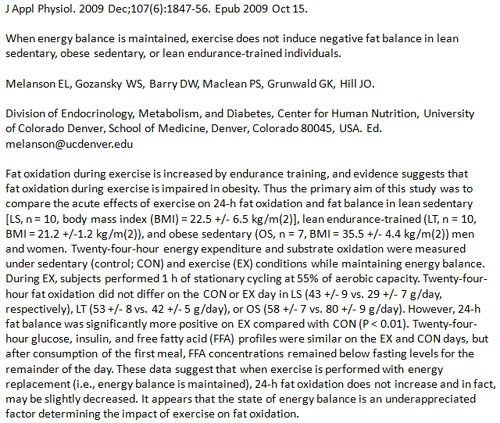 My Comments
Now imagine that you have begun one of the more popular weight loss programs, which advises you to workout on an exercise bike for an hour, three times per week. Not too challenging, huh? If you keep track, you might discover that you do pretty much what the subjects in this study did: work out at 55 percent of aerobic capacity for an hour.
Now what did you accomplish? No matter whether you are lean and endurance-trained, lean and sedentary, or obese and sedentary, the results will be the same. According to the study, the follow-up benefit of this workout, which is supposed to have what is usually called the 'after-burn' effect, really doesn't do much for you regarding fat metabolism.
Dang! This is sure disappointing, isn't it? Well, yes and no. Yes, because a very common and highly recommended type of exercise in many weight loss programs offers little benefit. No, because it explains my earlier puzzle about why people still carry spare tires in spite of exercise.
This is, unfortunately, why so many weight loss programs are bound to fail.
Any Hope?
Of course there is. The same folks who published this study, led by E.L. Melanson at the University of Colorado School of Medicine in Denver, have continued to look for good answers that we can benefit from. I will be posting follow-ups on what they are finding, plus some related research on how to be much more efficient with exercises to lose belly fat that take a lot less time than one of those hour-long torture sessions.
Stay tuned!
Commenting on the best and worst of weight loss programs,
Dr. D