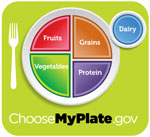 The Wheat Belly diet is a major thorn in the side of the USDA-backed ChooseMyPlate dietary recommendations – with good reason. Grains are not part of a healthy diet, whole or otherwise. Here is what you should know and do instead.
.
.
.
ChooseMyPlate Blunders
This is my initial perspective on the ChooseMyPlate program: Michelle Obama's MyPlate Replaces Food Pyramid With More Bad Government Advice. You can probably tell what my perspective is based on the title of that post.
Considering the historical, evolutionary, and agricultural evidence against grains in our diet in general, suggesting that they be a major part of what we should eat is poor advice. This is even more clear based on the Wheat Belly book, by Dr. William Davis, that has become a national bestseller.
Wheat Belly MyPlate?
There is a simple fix. All you have to do is make the following changes. Oh, I threw in the ban on dairy because I am lactose intolerant. Actually, suggesting a glass of milk as a part of a healthy meal is silly for a lot of other reasons, too.
Eat hearty!
For the wheat belly diet,
Dr. D.