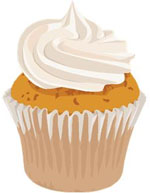 Okay, I exaggerate about the scientific part. Nevertheless, I did do some experiments with butter, cream cheese, and Stevia and came up with a nearly zero carb vanilla frosting that is to die for. Or at least to spread on almond bread. It sure is fun coming up with new wheat belly recipes! Here are two versions of my newly discovered formula.
Two Wheat Belly Recipes
First off, I have just about given up on making zero carb fudge or chocolate frosting (at least with unsweetened chocolate or cocoa powder), since it just doesn't seem to come out right, for my tastes anyway, when sweetened with Stevia. At this point, vanilla is the way to go, as described below.
Recipe 1 – The Basic Formula
This is as easy as it gets. Recipes have to be simple and fast for me to accomplish anything in the kitchen. This is all I did:
3 tbsp. of unsalted butter (salted butter ruined earlier recipes)
3 tbsp. cream cheese
2 capfuls of vanilla flavoring (ca. half of a tsp.)
10 mini-scoops of pure Stevia extract powder (ca. half of a tsp.)
Melt the butter and cream cheese together for about a minute in the microwave oven, or maybe a little more if needed. Stir with whisk or mix with electric mixer until smooth. Mix in vanilla and Stevia. That's it!
You can spread it immediately as a frosting, then refrigerate the final product for the frosting to stiffen up a bit.
Recipe 2 – Add an Egg
Yup. That is the only difference. Add a raw egg and whisk a bit more until smooth. I love raw eggs, so the idea to add an egg seemed a natural one to me. Just to be sure to whisk it thoroughly and you will be amazed at the lightness and richer flavor.
The Result
It sure satisfies my sweet tooth. In fact, I don't even need almond bread … I just love the frosting by itself. As for carbs, there are none in the butter, vanilla, or Stevia. The cream cheese label lists 1 g of carb for 28 grams of cream cheese, so this is very little carb.
Bottom line: If you like it, eat as much as you want!
All the best with your wheat belly recipes,
Dr. D