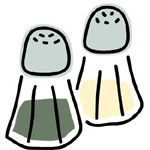 Success on the slow carb diet depends on an effective breakfast. Although making a good breakfast every day can be a hassle, here is a simple and quick recipe that is sure to warm the hearts of busy moms, non-cooking bachelors, and others who have to hurry in the morning.
.
.
.
A Slow Carb Diet Breakfast – Protein and Veggies
The link to the video that I found and posted here came from Timothy Ferriss' book, 'The 4-Hour Body'. He advocates the slow carb diet for burning fat and building lean body mass. It is a very effective way of eating for this purpose.
Fortunately for those of us who object to cooking an elaborate meal, especially at breakfast, or to cooking at all, Tim provides this short video of how he makes one of his favorite breakfasts.
No matter how you put this dish together, these are the key ingredients:
Eggology (100 percent egg whites)
Spinach (bought already chopped and frozen)
Flaxseed oil
Lemon juice
Salt and pepper
Salsa (any brand with little added sugar or salt)
Regardless of however you put these ingredients together, it won't matter so much as how easy it is to do so. Tim makes two dishes out of it, one of the egg whites and one of the spinach. He may even add lentils as a third dish to the meal. Here is how he does it 'bachelor style':
A Couple of Recommended Changes
First off, I cringe at the notion of ever cooking in plastic containers in a microwave oven. Microwave cooking is just fine, although plastics can and do leach unwanted chemicals into your food when you cook in plastic container. So one small change that I suggest is to use glass or pyrex. The effort and the clean-up will be the same as what Tim does.
The only other change that I myself make in this recipe is to use whole eggs. There is nothing wrong with egg yolks, although they carry an unwarranted bad reputation. Just be sure to whip them up before you microwave them. Otherwise, eggs have a tendency to explode in a microwave oven. (Trust me…this is the voice of experience here.)
That's about it. This is a simple breakfast that takes very little time to prepare or to clean up. It won't match a good protein shake for ease of preparation. However, I don't want to start out every day with a protein shake. Do you? I have to have some real food, too!
Happy cooking on the slow carb diet,
Dr. D