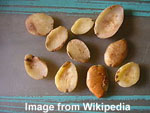 African mango is one of the latest weight loss herbs to hit the market big time. Unlike most such supplements, this one has some research science behind it. Here is what scientists have found.
.
African Mango (Irvingia gabonensis)
The scientific name appeared earlier in research and product development through the Life Extension Foundation (see Irvingia Extract Weight Loss And Side Effects). The initial study showed greater weight loss and improvements in several blood tests in a small double-blind, placebo-controlled pilot study in 2005.
Subsequent to that research, the same research group in Cameroon expanded the number of study participants and updated the weight loss and improved collateral results. The basic results are summarized in the Figure 3 from that study (click on image to enlarge):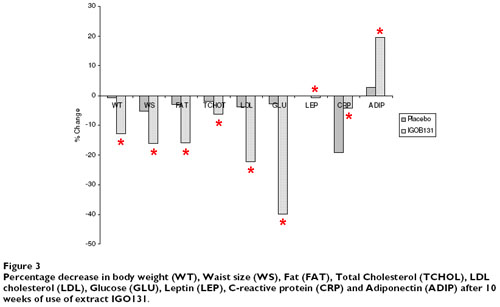 The first three measurements are the most important for what can be expected within 10 weeks: weight loss, reduction in waist size, and reduction on body fat percent. Each measurement is expressed as a percent change over the starting point, compared with the percent change in the placebo group.
The final measurement, adiponectin levels, indicates changes in a protein hormone that reflects basic fat metabolism. It is secreted from fat cells. The higher the levels of adiponectin, the lower the percent body fat. An increase in adiponectin levels corresponds to the reduction in body fat percent and to weight loss.
If you are like me and like to see more details, I have provided the specific reference information and the full abstract from this article here:
Updating African mango reviews,
Dr. D