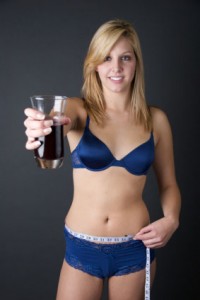 Anatomy of the Acai Berry Scam
Take a look at the photograph here. It represents thousands of ads and tens of thousands of words that focus on one thing – acai berry juice is useful for weight loss. Showing a slim, good-looking young lady is just an emotional  appeal. In this case the model is holding a glass of acai berry scam -er, juice. The message is, "Drink this juice and look slim and beautiful like me." Nothing out of the ordinary for this marketing strategy. It is standard operating procedure.
The subject became a scam when Google slapped down hundreds of ads for sending people to fake blogs. These blogs were supposed to be by young ladies who miraculously lost weight by drinking acai berry juice. It turns out that the young ladies didn't even exist!
What Does Research Have to Say?
Weight loss supplements have been so tarnished by fraud that the FDA, bless their peanut inspecting hearts, has decided to come down hard on companies that make these kinds of supplements. (Do you think for a minute that this has anything to do with the FDA's real job – i.e., to be the enforcement arm of the pharmaceutical industry? Nah, didn't think so.) In my view, this subject warrants a lot of digging into actual research. So that is what I have done on the topic of acai scams and weight loss.
Overview of Acai Research
The following is a very brief summary of ALL of the research that I could find in the medical literature about acai. I searched the medical database at CAM (Complementary and Alternative Medicine) on PubMed. (This is a free government site that you can use, too.) The keywords that I used, which are the most important kind of terms to search for scientific research about any species of plant, were the scientific name. In this case, the scientific name that is unique to the acai palm is, Euterpe oleracea.
Here is the list of research topics, with their publications dates, on all of the nine articles about acai that have ever been published in reputable scientific journals:
2004 Anthocyanins and similar phytochemicals were isolated and evaluated for antioxidant activity and pigment stability.
2005 Several commercial and non-commercial samples of acai fruit pulp were found to have antioxidant activity; very little of this activity was due to the anthocyanins
2006 Anthocyanins from fruits were found to be potent inhibitors of nitric oxide
2006 Seed extracts show potent antioxidant activity, mostly from as yet unknown ingredients
2007 Extracts of acai pits show vasodilator effect on rat tissue
2007 Acai fruits have good nutritional value
2008 Acai fruit pulp and oil inhibit growth of colon cancer cells in culture; effect is not due to anthocyanins
2008 Class of phytochemicals called lignans discovered; showed protective effect on breast cancer cell cultures that were stressed by hydrogen peroxide
2008 Showed acai pulp to be equivalent to applesauce in increasing plasma antioxidant capacity
Note that the first one appeared in 2004 and the most recent one in 2008. More will be coming in 2009, I am sure. Note also that not one single article has anything to do with weight loss. In the immortal words of Gomer Pyle, "Surprise, surprise, surprise!"
The Gory Scientific Details
If you really want to get more information about these articles, you can do the same search on CAM/PubMed that I did. Or you can see my more complete summaries of the research, with author names, article titles, journal citations, and PubMed ID numbers at my HerbScientist blog. Either way, you will learn that we have a big acai scam on our hands.
Isn't real science fun?
All the best in natural health,
Dr. D