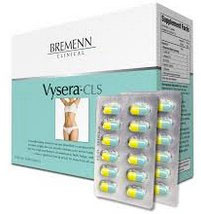 A full double-page ad showed up in my Sunday magazine for the new diet pills called Vysera-CLS. Unfortunately, when I went to dig up the substance behind all the wonderful claims about how it can reshape your body, I found none.
.
.
.
.
.
.
.
.
Hunting for Substance
Marketing hype for new diet pills is typically breathless and poorly substantiated. Vysera-CLS fits the bill perfectly. The print ad and the product website (www.vyseracls.com) offer up the following, just for starters:
As incredible as it sounds, groundbreaking research has just identified a compound that can not only help you lose weight, but can actually reshape your entire body, reducing waist size, hip size, thigh and buttock circumference, belly bulge, and…last but not least…cause a significant loss of actual fat mass from all over your body. Has the "miracle pill" finally arrived?
Wait! There's more!
The ad in my magazine goes on…
Some people are calling it a "miracle pill." However, this "miracle pill" is backed by serious clinical research published in the highly respected British Journal of Nutrition.
In a randomized, double-blind, placebo-controlled clinical trial, study subjects took the compound along with their main meal of the day. Thirty minutes later, they had a significantly lower percentage of blood glucose increment from baseline, a smaller increase in C-peptide and, forty-five to one hundred twenty minutes after they ate, subjects also experienced a smaller insulin increase compared to placebo. Additionally, with respect to time, researchers a significant effect on the hunger hormone ghrelin as well as on satiety and desire to eat. The end result was that the specialized compound was shown to cause a significant reduction in body weight, fat mass, BMI, adipose tissue thickness, and waist/hip/thigh circumference while maintaining lean body mass.

(Quoted from USA Weekend, Oct. 4-6, 2013)
The ad goes on to say that a company in the U.S.A., Bremmen Clinical, has acquired an exclusive license for the "patented compound" and has added a proprietary mood-elevating component to help eliminate "diet fatigue."
Look, I'm no slouch when it comes to digging up scientific research and patents. However, Bremmen Clinical has done a marvelous job at failing to provide any help to find out about what is behind Vysera-CLS. It may be my failing, but I could find no reference on PubMed (which indexes thousands of medical journals, including the British Journal of Nutrition) on this product or on the company. I could find no reference whatsoever to a patent on the U.S. Patent and Trademark office website. (Caveat: It may be an international patent. The company fails to cite it either way.) I did find a listing for the trademarked name, though, to an attorney at an LLC in Nevada.
I almost struck out completely on finding a list of the ingredients, too. As you can see below, the company website obfuscates the ingredients with an out of focus, slanted image of the Supplement Facts panel on the back of the product container.
The only ingredients list that I found is on a completely different website.
Vysera-CLS Ingredients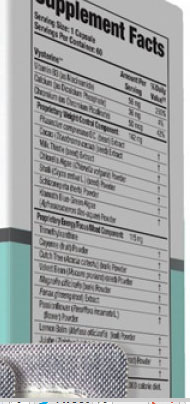 Vysterine: Vitamin B3 (as Niacinamide), Calcium (as Dicalcium Phosphate), Chromium (as Chromium Picolinate).
Proprietary Weight Control Component: Phaseolus Compressus DC. (Bean), Extract Cacao (Theobroma Cacao) (Seed), Extract Milk Thistle (Seed), Extract Chlorella Algae (Chlorella Vulgaris) Powder, Shali (Oryza Sativa L.) (Seed) Powder, Schizonepeta (Aerial Parts) Powder, Klamath Blue-Green Algae (Aphanizomenon Hos-Aquae) Powder.
Proprietary Energy/Focus/Mood Component: Trimethylxanthine, Cayenne (Fruit) Powder, Cutch Tree (Acacia Catechu) (Bark) Powder, Velvet Bean (Mucuna Pruriens) (Seed) Powder, Magnolia Officinalis (Bark) Powder, Panax Ginseng (Root) Powder, Passionflower (Passiflora Incarnata L.) (Aerial Parts) Powder, Lemon Balm (Melissa Officinalis) (Aerial Parts) Powder, Jujube (Ziziphus jujuba) (Fruit) Powder, Chinese Skullcap (Scutellaria Baicalensis) (Root) Powder, Poria Cocos (Sclerotium) Powder.
Other ingredients: Gelatin, Microcrystalline Cellulose, Magnesium Stearate, Silicon Dioxide, Titanium Dioxide, Tumeric (For Color), FD&C Yellow #5, FD&C Blue #1, FD&C Yellow #6. (Synthetic food dyes? Really?)
No Patented Compound
The first ingredient, vysterine, is a mixture of a B-vitamin and salts of calcium and chromium. This is not a 'compound', nor is it a patentable mix by any means.
Of course, the additional ingredients, which are all herbs, are not patentable, either. Furthermore, any substance for weight loss must pass through approval by the FDA, which is at last count a half-billion dollar process that takes more than a decade. (The trademark name, Vysera, was approved March, 2013.)
The ad makes out the "compound" to be for weight loss. That would be a usage patent. Herbal mixtures, at best, can be patented in process patents, based on how they are formulated and not what they are supposed to do.
Biggest Buyer Beware
Vysera-CLS is very expensive – 99 dollars per month. The worst aspect of this whole marketing plan, however, is its attempt to draw customers into a monthly auto-ship program. Sign up once and your order (and the charge to your credit card) just keeps on coming. These kinds of programs have their advantages. However, with all the shady marketing of this product (and no clear explanation of a money-back guarantee or how to cancel an auto-ship order), it points to a scam.
Unless and until Bremmen Clinical comes clean on all that supposedly wonderful research – i.e., with a full reference citation in the British Journal of Nutrition – plus the actual patent or patent number, there is no way to evaluate the science behind Vysera-CLS.
The company has clearly spent a great deal of money on advertising. It matters not. Nothing about it inspires confidence. It is definitely a DO NOT BUY.