Research on green tea weight loss shows positive results for the most part. Results depend on the bioavailability of the main active ingredient, EGCG. Here is what to look for.
The EGCG Dilemma
EGCG (epi-gallocatechin gallate) is the most active ingredient for green tea weight loss, among a handful of catechins. This is a rather small molecule that has attracted lots of attention in numerous medical studies because of its antioxidant potential. One crucial consideration that most studies miss, though, is how bioavailable these substances are. Fortunately, one excellent study has been published on the subject, including how to make it more so.
First, just in case you enjoy looking at chemical structures like I do, I have drawn the structure of EGCG here:
Bioavailability of EGCG
The baseline study under consideration here was published in 1998, as summarized in the abstract of the full article:
Pietta PG, Simonetti P, Gardana C, Brusamolino A, Morazzoni P, Bombardelli E. 1998. Catechin metabolites after intake of green tea infusions. Biofactors. 8(1-2):111-8.
Green tea contains relatively large amounts of catechins, that have been recognized to be efficient free-radical scavengers. In spite of a largely described antioxidant effect, the metabolic fate of catechins in humans has been scarcely studied. An infusion of green tea (about 400 mg of catechins) was given to healthy volunteers; plasma and urine samples were collected for 5 h and 2 days, respectively. Epigallocatechin gallate and epicatechin gallate were detected in plasma samples, reaching the maximum concentration (2 microM) at 2 h. Urine samples collected at 6-48 h contained detectable amounts of final catechin metabolites, including 4-hydroxybenzoic acid, 3,4-dihydroxybenzoic acid, 3-methoxy-4-hydroxy-hippuric acid and 3-methoxy-4-hydroxybenzoic acid (vanillic acid). The total content of these metabolites averaged 60 mg. The levels of free plasma catechins account only partly for the increased (approximately +20%) total radical-trapping antioxidant parameter (TRAP) detected after green tea intake. Catechin conjugates (glucuronide and sulphate) and metabolites may add further contribution and explain the measured TRAP increase.
This same research group, in Milan, Italy, also set about designing a way to take advantage of what is known as 'phytosome technology' to see whether they could enhance the bioavailability of EGCG. The call their new product 'Greenselect Phytosome':
Pietta P, Simonetti P, Gardana C, Brusamolino A, Morazzoni P, Bombardelli E. 1998. Relationship between rate and extent of catechin absorption and plasma antioxidant status. Biochem Mol Biol Int. Dec;46(5):895-903.
Flavonoids are described to exert a large array of biological activities, which are mostly ascribed to their radical-scavenging, metal chelating and enzyme modulation ability. Most of these evidences have been obtained by in vitro studies on individual compounds and at doses largely exceeding those dietary. Little is known about a possible relationship between rate and extent of the absorption and modifications of plasma antioxidants. To elucidate this aspect, human volunteers were supplemented with single doses of green tea catechins in free (Greenselect) or phospholipid complex form (Greenselect Phytosome) equivalent to 400 mg epigallocatechingallate (EGCg). EGCg was chosen as biomarker for green tea catechin absorption, and its time course plasma concentration was correlated to the subsequent percent variations of plasma ascorbate, total glutathione, alpha-tocopherol, beta-carotene and Total Radical Antioxidant Parameter (TRAP). Green tea catechins were absorbed more extensively when administered as phospholipid complex rather than as free catechins. Single dose intake of both forms of catechins produced a transient decrease (10-20%) of plasma ascorbate and total glutathione and an increase of plasma TRAP (16-19%). These variations were consistent with the plasmatic levels of EGCg, ascorbate and total glutathione.
Although it is not obvious from this abstract, the most important results from this study can readily be seen in these two charts from the article. In the first chart, Greenselect Phytosome peaks doubles the amount of available EGCG (green line). In the second chart, Greenselect Phytosome leads to a quicker antioxidant burst (i.e., TRAP; green line):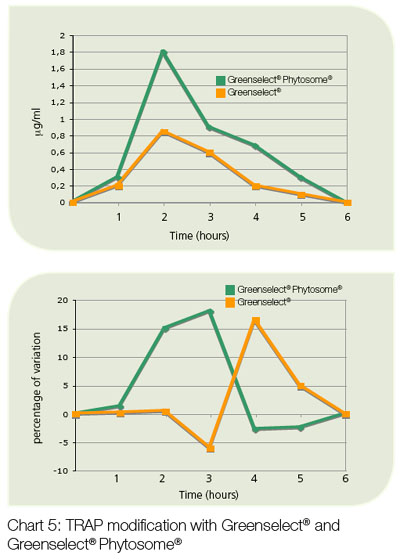 The increased bioavailability and faster-acting antioxidant power of the Greenselect Phytosome clearly shows that EGCG can be optimized for its physiological impact when prepared using phytosome technology.
The question regarding green tea weight loss is now: Does Greenselect Phytosome give better results that other green tea preparations? The answer is yes, as I've posted here: Boosting Green Tea Weight Loss.
Updating green tea weight loss research,
Dr. D.