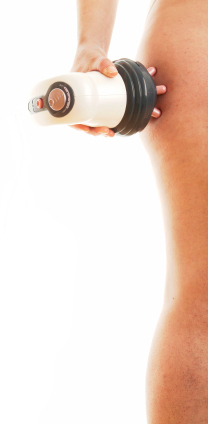 Cellulite remedies is such a gigantic topic in the public realm that it is difficult to find what, if any, science there might be behind this topic. Nevertheless, European researchers have been studying cellulite for many years, in hopes of developing treatments that give reliable results.
Research does, indeed, offer hope. As an example of what scientists in France have found so far, the following article appeared in 2008: "Use of the microdialysis technique to assess responsiveness of femoral adipose tissue after 12 sessions of mechanical massage technique." Journal of the European Academy of Dermatology and Venereology, vol. 22 (no. 12), pp. 1465-1470 (2008). By C. Monteaux and M. Lafontan, LPG Systems Scientific Research, Sophia Antipolis, France. The original abstract for this article is available to the public at PubMed.
Although this study was conducted by a commercial enterprise, it is published in a real scientific journal. The main conclusion of the study is, "These results suggest an increase in the lipolytic responsiveness of femoral adipose tissue in women with cellulite having undergone 12 sessions of mechanical massage." When translated into everyday English, this means that 12 massage sessions increased the breakdown of fat on women's thighs. The not so obvious catch in this study is that the stimulus used for inducing fat breakdown in the first place was an injection of a substance called isoproterenol. This is an ingredient that is used in mesotherapy to treat cellulite. This study does not show that massage alone does anything for reducing cellulite.
The nice thing about this study is that is rests on mesotherapy research, which is pretty good. Now we know that mesotherapy can be improved by massage treatments. The take-home lesson, however, is that you have to get treatment from someone who is professionally trained to administer mesotherapy. This is a topic unto itself, which I will review soon. In fact, I am considering developing a separate page at this blog that will be devoted to cellulite. It would be of great benefit for you to know how you can weave through all the hullaballoo on this topic to find out what the best scientifically-supported strategies are. Yup, that's exactly what I will do. It should take me a couple of weeks to gather some good information for you and get this going. Stay tuned!
All the best in natural health,
Dr. D